Golden Olive Velvet
Retro Vibes with Modern Comfort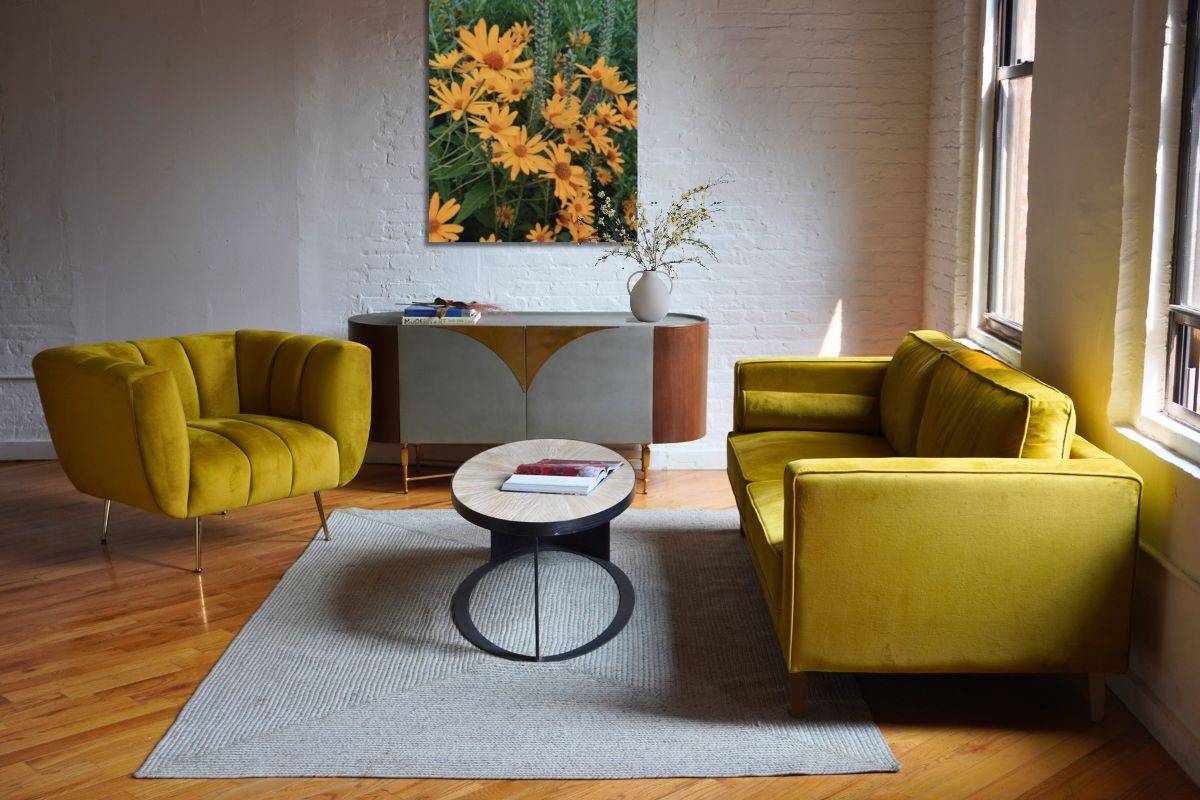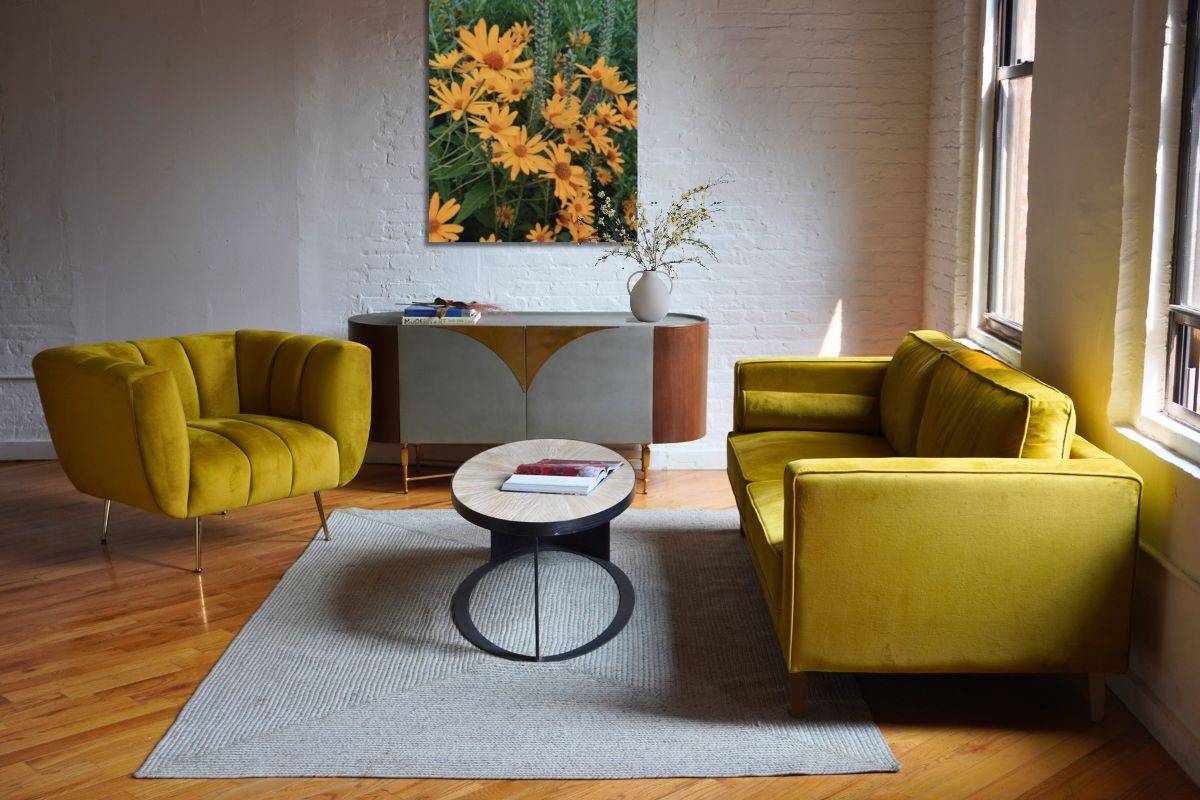 Create a harmonious contemporary atmosphere that exudes 1960's retro style with Introspect sofa and Benevolence accent chair in rich Golden Olive Velvet. Metropolis sideboard adds a touch of functional elegance, its walnut finish and sleek design providing ample storage with an art deco flair. And Ellipse coffee table, with its industrial yet rustic style, completes the ensemble, its curved shape and fine craftsmanship inviting conversations and enhancing the room's aesthetic.
Seafoam Velvet
Mid-Cenury Modern Futurism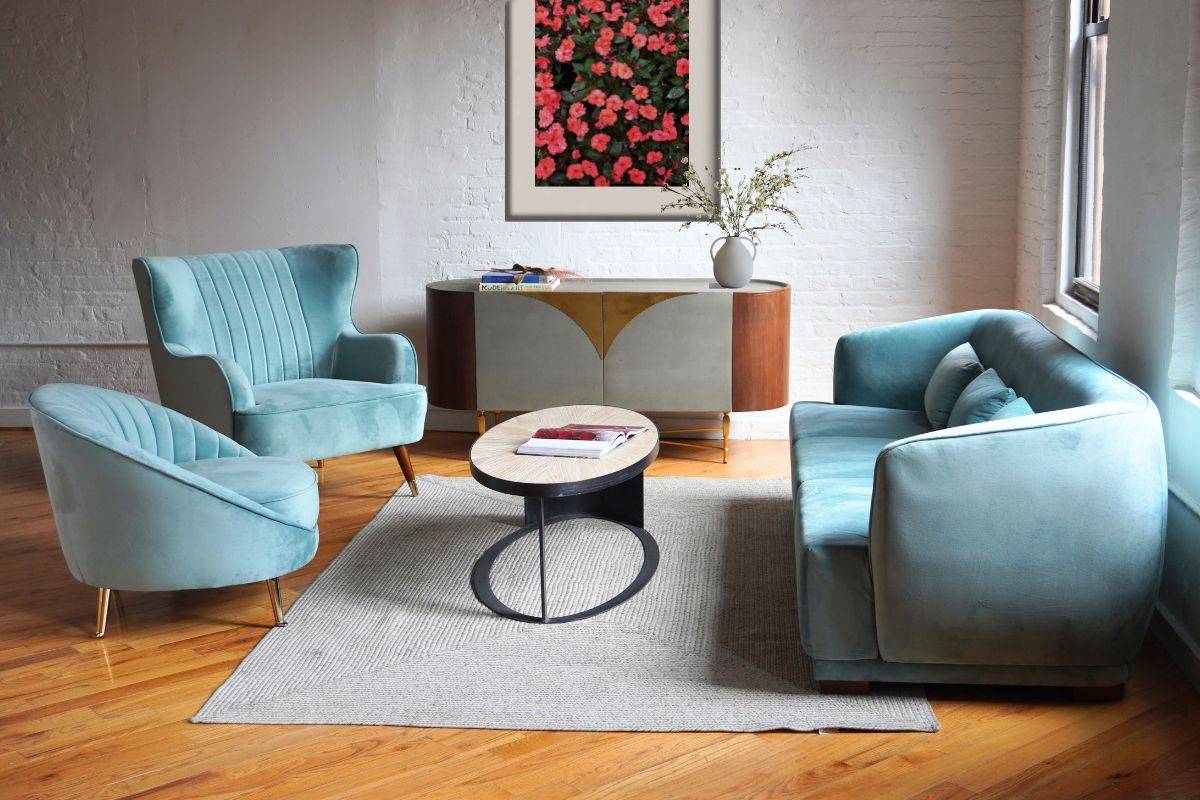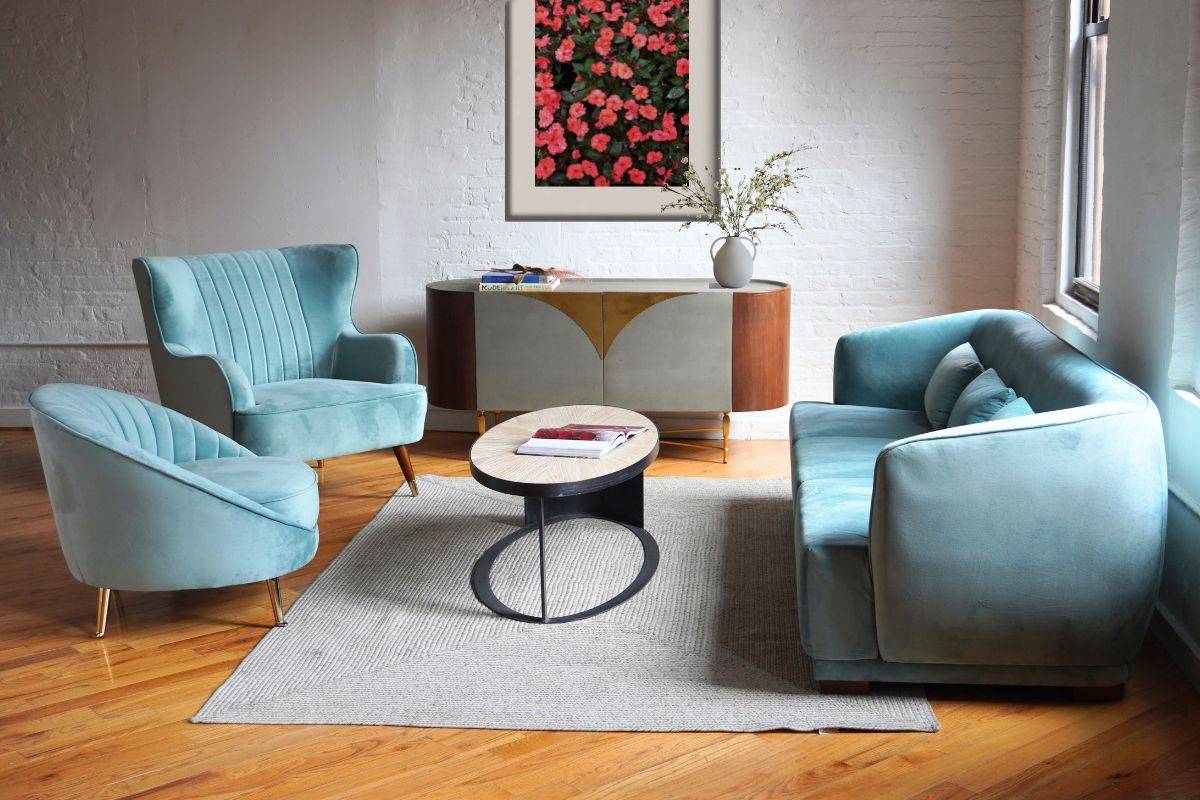 Harmony Sofa in turquoise boasts a futuristic design with plush cushions, offering both unique style and relaxation. The Persistence wingback accent chair adds a touch of mid-century modern, while Monroe Accent Chair, adorned with a graceful round body, embodies understated sophistication. Together, the seating creates a cohesive and inviting arrangement that exudes modern luxury and tranquility. To complement this ensemble, the eye-catching Metropolis Sideboard stands out with its captivating art deco design, and the Ellipse Coffee Table, with its indrustrial yet rustic appeal, completes the setup, providing a functional and eye-catching focal point in the room. Together, these pieces create a harmonious and inviting contemporary atmosphere that effortlessly combines style, comfort, and uniqueness.
Blue and Pink Velvet
A vibrant oasis of modern style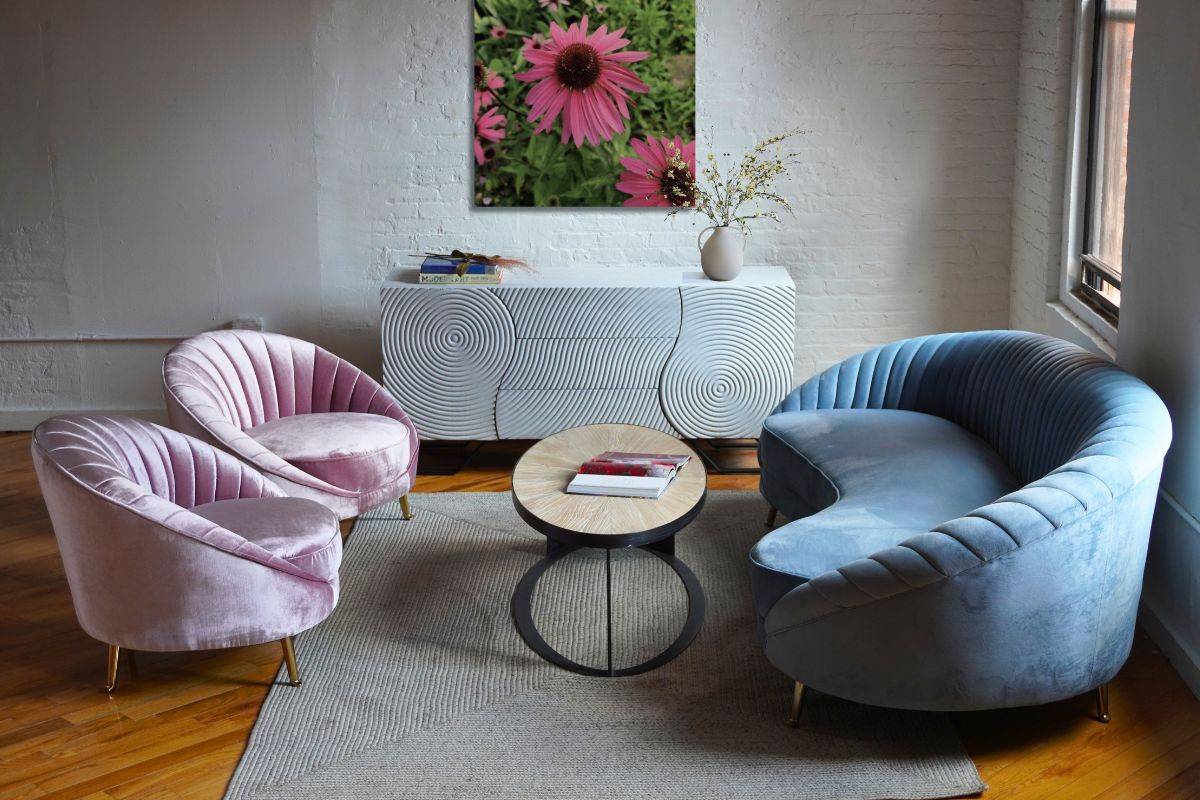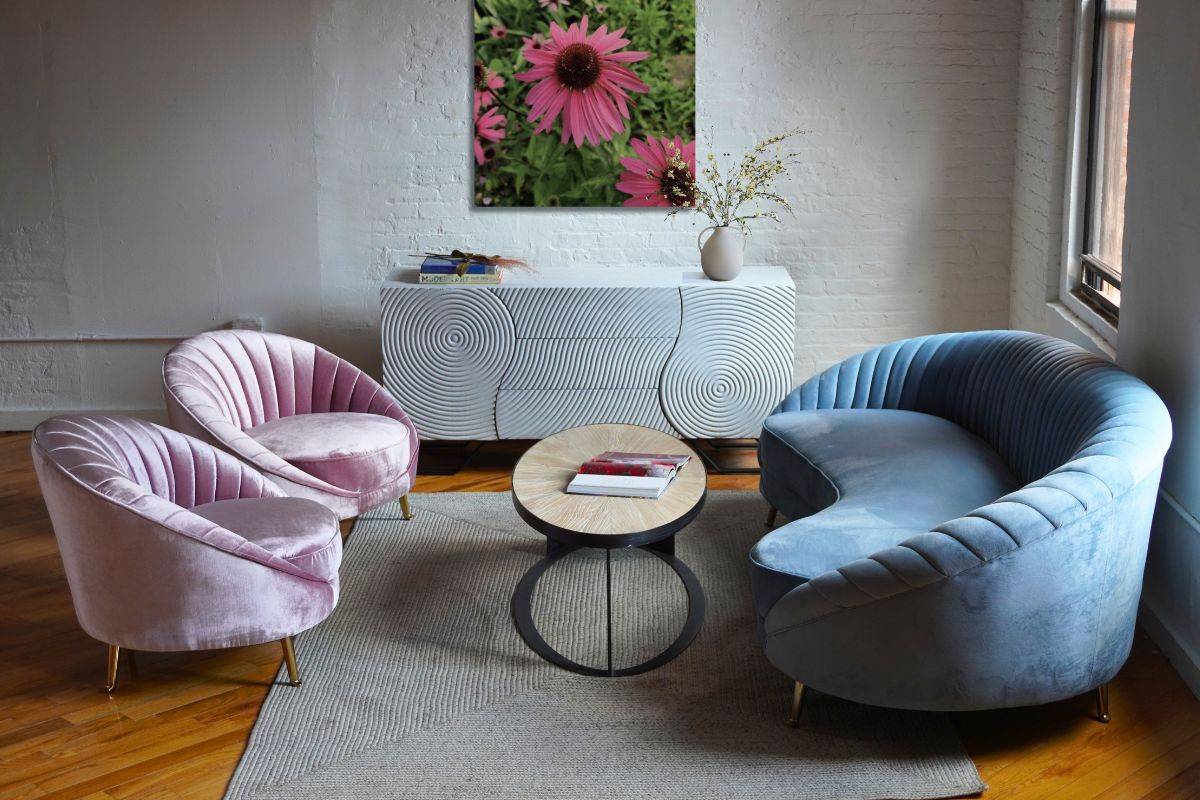 Picture your living room with the beautifully curved Monroe sofa in light blue as the centerpiece, and two eye-catching round, iridescent blush Monroe accent chairs exuding elegance and comfort. Complementing the seating is the white birch Ring sideboard, adorned with engraved swirls, bringing a touch of nature indoors while maintaining a sleek and contemporary vibe. To complete the look, we've included Ellipse industrial modern coffee table, a perfect blend of form and function. Elevate your space with this curated ensemble, where comfort, design, and functionality converge in perfect harmony.
Seafoam and Grey Velvet
Mid-Cenury Modern Futurism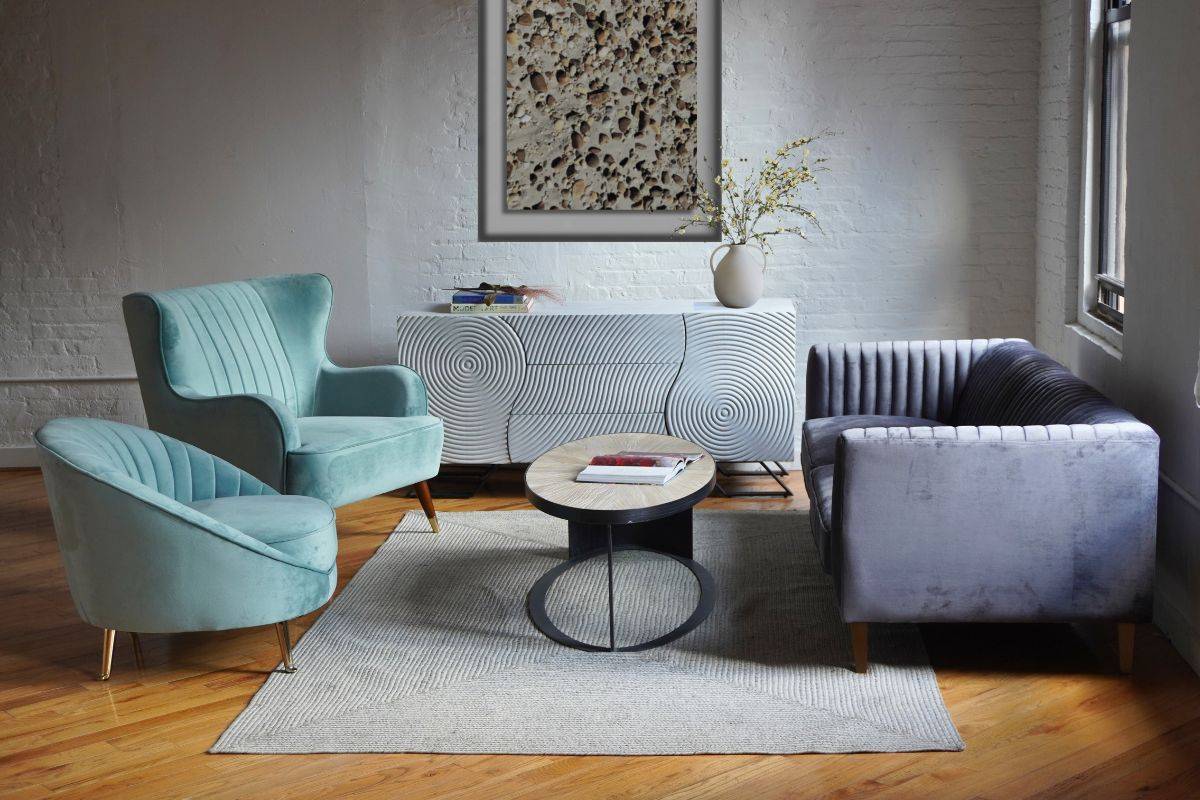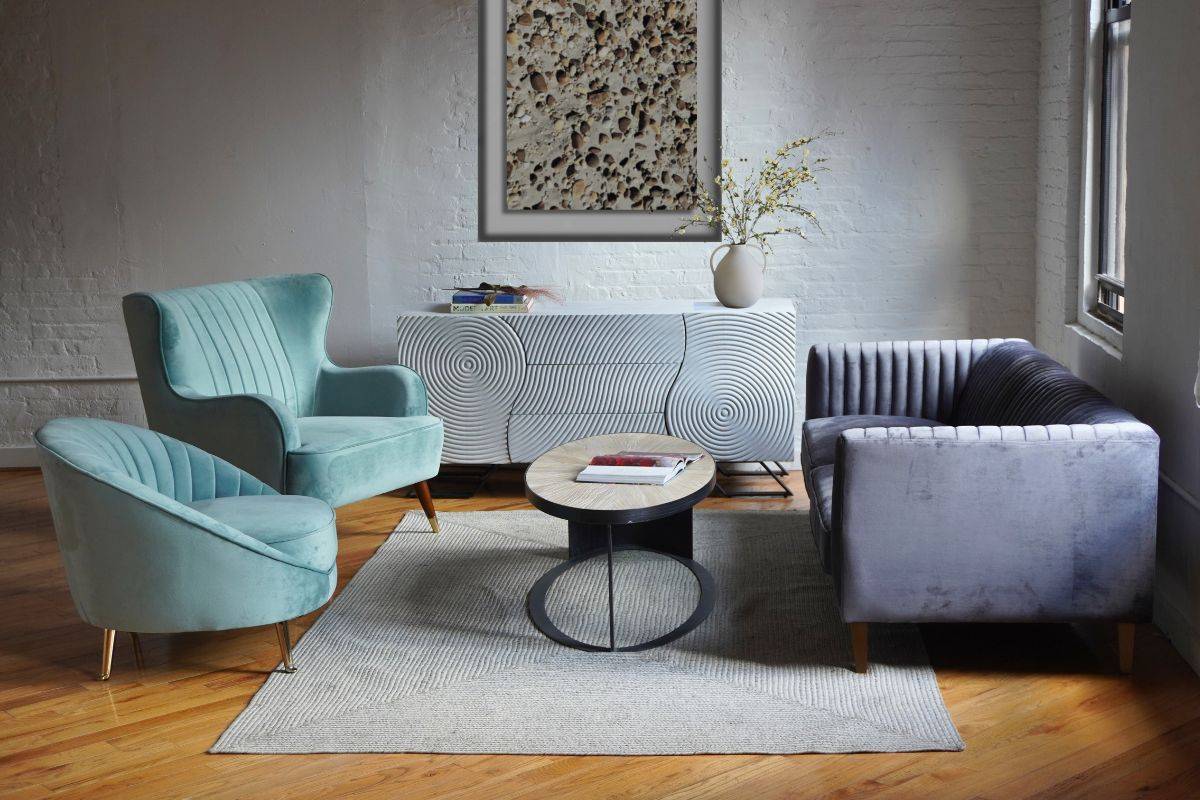 Stately Modern Art Deco Sofa in chic grey velvet serves as the sophisticated anchor of this living room, beautifully complemented by the wingback Persistence Accent Chair and the Monroe Accent Chair, both in turquoise/seafoam velvet. This color pairing effortlessly weaves a sense of tranquility and luxury throughout the room, creating a harmonious blend that soothes the senses. Ring Credenza, with its opulent white engraving, adds a touch of intricate elegance, while the Ellipse Coffee Table injects a bold, yet balanced, industrial flair. Together, these elements create an exquisite living room setup that's both inviting and visually captivating, where every detail speaks to the seamless fusion of modern artistry and timeless charm.